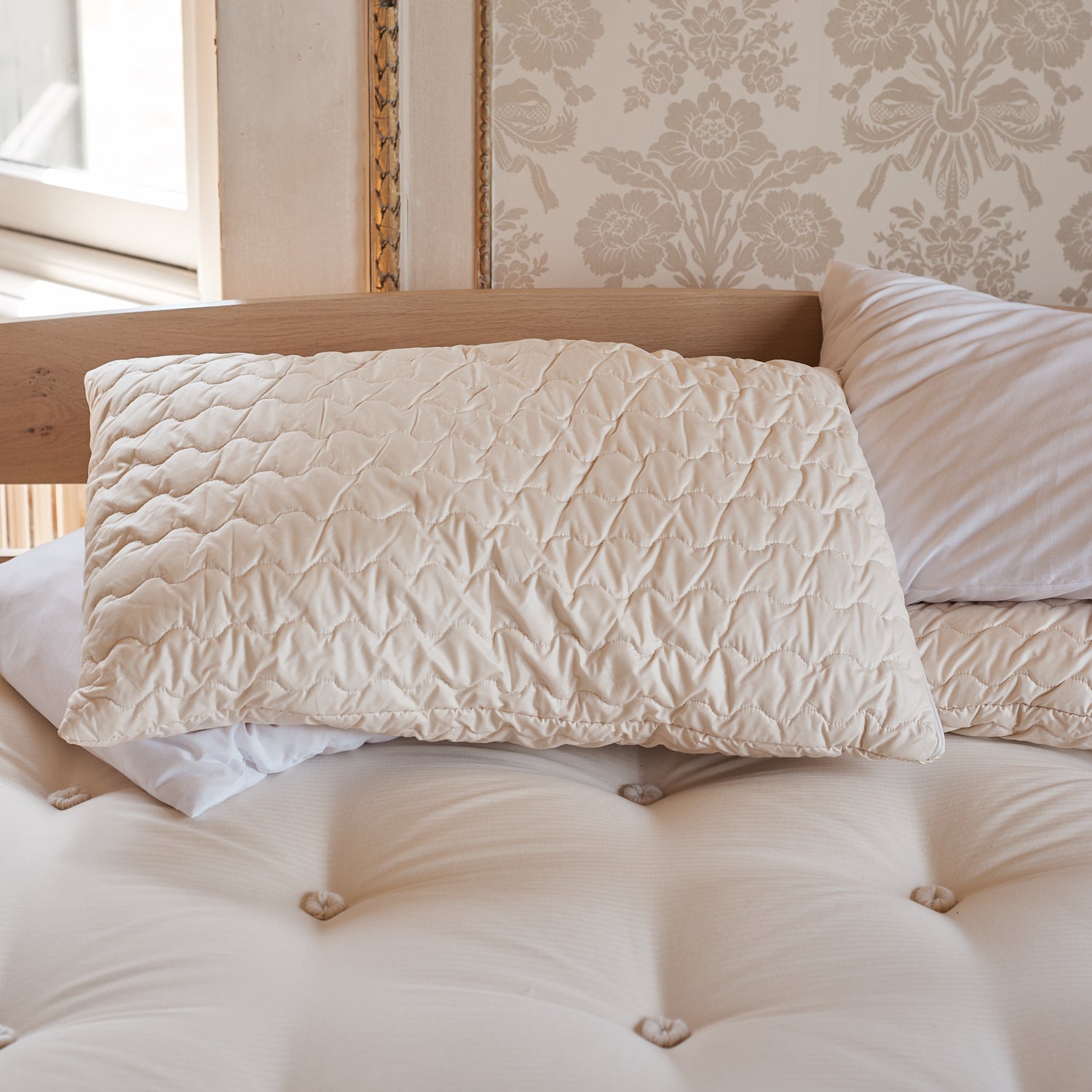 Organic pillows
Have a browse through our organic pillow collection, our range caters for people needing neck support and we also provide pillows for baby feeding. Our organic pillows are perfect for adding extra comfort to your night. Our wool textured fibre provides the perfect sleeping environment, as this type of material allows your body to regulate its own temperature.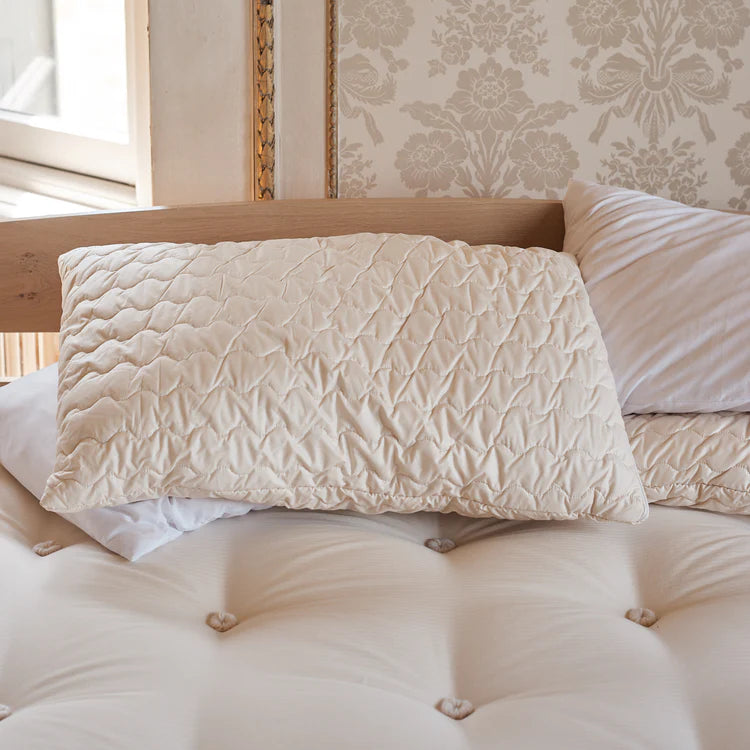 Breathable organic pillows
Our organic pillows are a great choice for anyone who wants to get more sleep and feel more rested. Wool is naturally breathable, which means that it allows your skin to "breathe" as you sleep, which helps prevent dryness and itchiness. Organic Pillows are also naturally absorbent, which means that they can help keep your head cool at night so that you don't wake up with a sweaty head or neck. It's also naturally flame-resistant—which can be especially useful if you worry about fire safety!
Wool pillows are also great for allergy sufferers: they help reduce dust mites, which are known to aggravate allergies. The natural properties of wool make it a perfect material for those with allergies or asthma.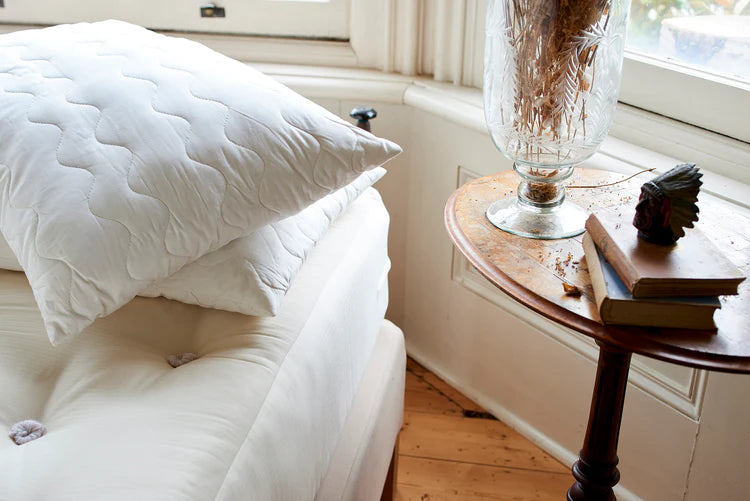 Adjust or customise
Our medium firmness organic pillows are filled with organic Welsh wool, they can be unzipped for washing and it is also possible to add or remove the wool to get the perfect feel and height. If neck support is what you are looking for, we also provide organic pillows with three deep channels which allow you to position them in several different ways. If you would like to customise a product, feel free to contact us.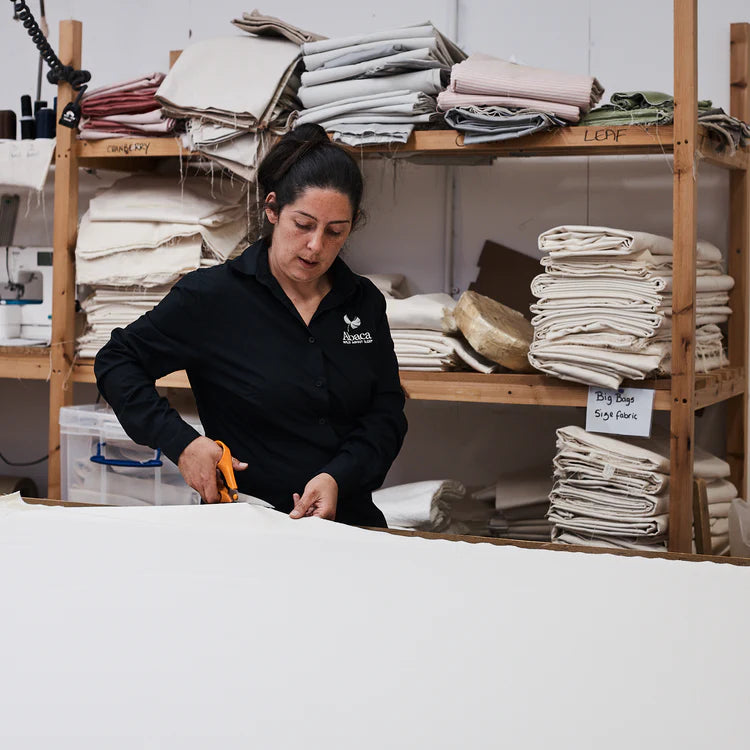 Handcrafted in the UK
It's British, it's handmade and it's organic. Our wool pillows are handcrafted in Wales, and we pride ourselves on the fact that our pillows are made sustainably. Because we have been in the industry for twenty years, we have a wealth of knowledge about all of the different products we use. If you happen to enquire about one of our products, you can be sure that we are recommending solutions tailored specifically to your needs.
Organic pillow FAQs
Why use organic pillows?

Organic pillows provide a soft and luxurious feel, enabling you to drift off quickly and wake up feeling calm and relaxed. Our hypoallergenic organic pillows produce a natural barrier between you and your allergens, so you can drift off peacefully.
Are organic pillows suitable all year round?

The short answer is yes. Wool keeps you warm in the winter and cool in the summer. Unlike synthetic materials, wool won't trap heat and leave you to roast at night. It's also naturally absorbent and wicks moisture away from your skin, so it's great for people who tend to sweat at night.
Can you adjust or customise a pillow?

Our medium firmness pillows can be unzipped for washing and it is also possible to add or remove the wool to get the perfect head support. For neck support, Abaca also provides organic pillows with three deep channels for different positioning. If you would like to customise one of our products in the range, just get in touch.
Do you sell other organic products?

As well as organic pillows we also sell duvets, bed linen, mattresses, mattress toppers, beds, and headboards. Please contact us if you have any questions with regards to our organic products.
Where are the organic pillows made?

Our organic pillows are handcrafted in our Welsh workshop.