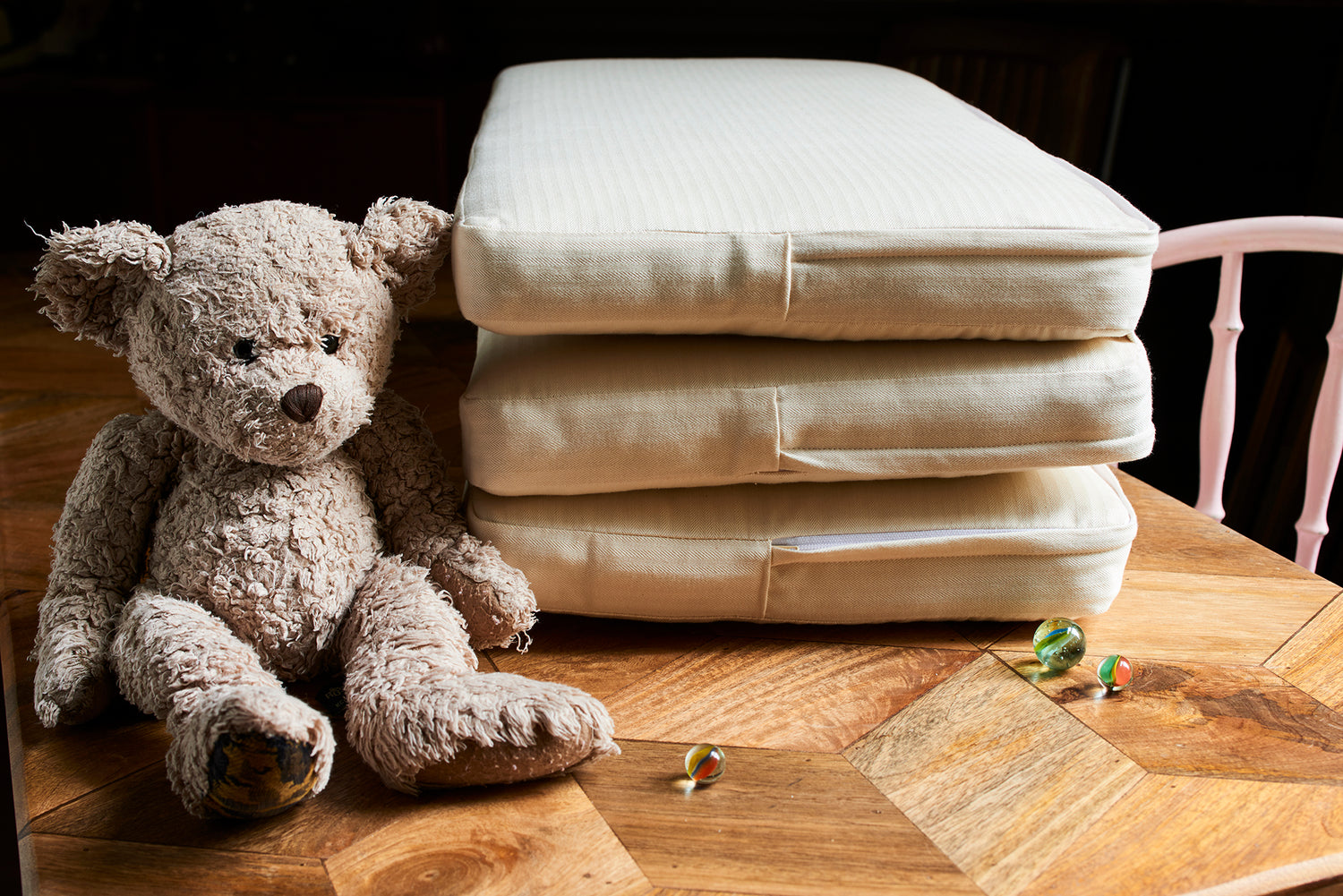 Organic Baby Mattresses
Our organic baby mattresses are made with the very best organic materials. What could be better than organic wool and cotton to ensure safe and healthy sleep for your baby.
Cribs, Cots & Moses
We have 4 products in our baby mattress range, including a beautiful hand woven moses basket. All these organic baby mattresses are organic.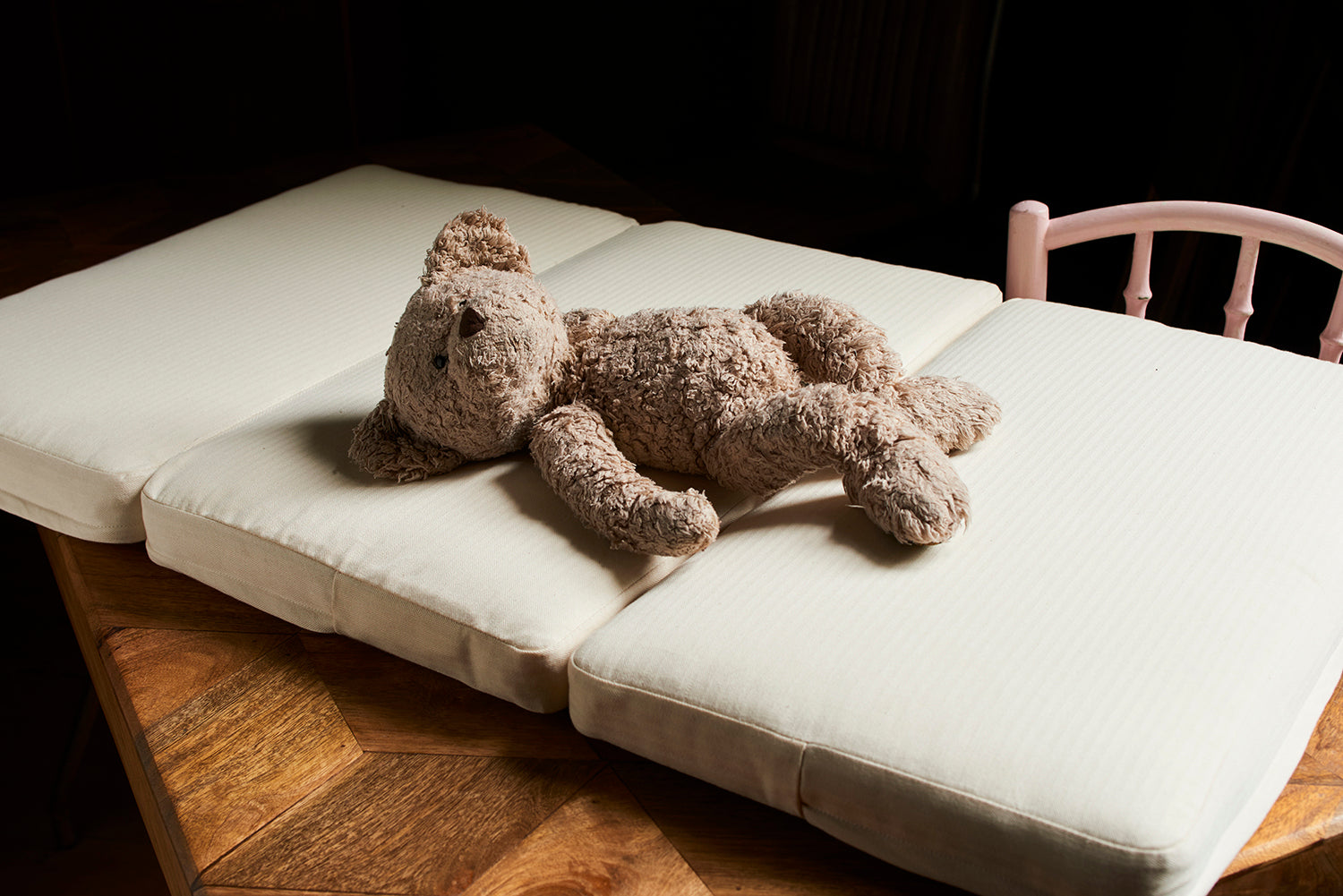 Need help with baby mattresses?
If you want to speak to someone about mattresses for your baby please give us a call on 01269 598491, or book a consultation date and time and let one of our expert team help you. We can also handmake organic baby mattresses in any size or shape and our organic waterproof protectors are custom made to fit.
Book a consultation
Organic baby mattress reviews
After buying a memory foam mattress and nearly dying from the toxic smell that came off it I started looking into what chemicals are used in mattresses. After all the pollutants my baby is exposed to I had to get her an organic mattress and we love it. Abaca were great, it's so nice being able to talk to them on the phone about what you are buying and they make it to whatever size you need. The mattress protector is great too. Excellent company, I only wish we could get a mattress for our bed too!

Marie H - Cot Mattress

The cot mattress we bought from Abaca has been brilliant, knowing our baby is sleeping on organic materials. From what we can tell (as we can't fit to try) it feels really comfortable, nice and thick and fits our cot perfectly. Thank you!

Rhys B - Cot Mattress

Great quality - our baby is sleeping like a baby!

Rosa K - Cot Mattress

Abaca were able to supply me with a bespoke crib mattress at short notice. Made from a template I posted to them, it arrived within days. It is simply perfect. The quality is outstanding & I love that it is made from natural materials using local wool. Rhiannon was so helpful throughout the entire ordering process & nothing was too much trouble. I cannot recommend Abaca highly enough & have passed their details to friends & family. Thank you so much Rhiannon & your excellent team.

Sharon R - Moses Basket Mattress
Why buy your organic baby mattress from Abaca?

Our handmade, organic baby mattresses are made from only the best natural matterials such as 100% cotton and wool. This combination will keep your baby comfortable all night long.

For over 30 years, we've been making our organic baby mattresses by hand to ensure the best quality possible for your little one. We're also proud to use local materials, which supports local workers and businesses.

Our organic baby mattresses have health benefits

We believe that a healthy, safe and non-toxic environment is a right for every baby, and we are committed to providing that for you and your family.

We only use organic materials in our baby mattresses, so you can rest easy knowing that your baby isn't being exposed to any harmful chemicals. Our mattresses are also free of flame retardants and fillers, which means they won't release any noxious fumes into the air or cause allergic reactions.

Our organic baby mattresses are good for the environment

It's no secret that we all want to leave a better world for our children, but it can be hard to know where to start. One of the easiest ways to do your part is by buying organic baby mattresses, which are made from sustainable materials and have a smaller carbon footprint than traditional options.

But what exactly is an organic baby mattress? Organic baby mattresses are made from natural fibers like cotton or wool, which means they're easier on your babies skin and more comfortable for him or her to sleep on. They also reduce the amount of chemicals released into the environment during manufacturing because they don't need to be treated with pesticides or other harmful chemicals.

Our baby mattresses are organic

To give the utmost confidence in our baby mattresses we are an organic company. Every year 7.5 million mattresses go into landfill in the UK alone, so producing natural & organic baby mattresses using materials that can be recycled is really important to us.

The best news about Abaca's organic mattresses? They can last up to three times longer than traditional ones! This means less waste in landfills—and fewer harmful chemicals in your home.
Have a question about our Organic Baby Mattresses?
No matter how small your question is, please don't hesitate to contact us using the form below! We are more than happy to answer any questions about our Organic Baby Mattresses (or any other product on our website).
Organic Baby Mattresses Contact Form
Organic baby mattress FAQs
We like to try and provide as much infortmation for you to make an informed decision about your organic baby mattress purchase. If there is somthing we have not answered fully on this page, please contact us and we will try our best to answer any question you may have.
What Are The Benefits Of Organic Baby Mattresses?

Organic baby mattresses are made without harmful chemicals. Instead of using synthetic materials, they're made with natural ingredients that your baby can enjoy.

Organic baby mattresses are free of chemicals and additives. They don't contain any pesticides, flame retardants, or formaldehyde (which is a chemical used in creating synthetic materials). These products are also free from synthetic materials—things like polyurethane foam and vinyl—and instead use things like cotton and wool as their main components.
Things to Avoid When Choosing an Organic Mattress for Babies

Want to avoid chemicals, flame retardants, and other substances that may be harmful to your baby? Here are some things to look out for when shopping for an organic mattress:

Chemicals. Do your research on the materials used in the manufacturing process of the mattress. Some chemicals are known respiratory irritants or carcinogens, so it's important to avoid them if possible.Flame retardants. If a product contains fire-retardant chemicals like polybrominated diphenyl ethers (PBDEs) or polychlorinated biphenyls (PCBs), this isn't something you want near your baby's lungs—or anywhere else on their little body!
Why is a Breathable Baby Mattress Important?

If you have a baby, then you know that they are very small and their skin is very soft. This means that anything touching them can cause irritation to their sensitive skin. The best way to protect your baby from irritation is by using breathable fabrics in their bedding, especially for babies who are sleeping on a cot or changing table during the day. Breathable fabric helps keep them cool in summer and warm in winter; it keeps them dry if they get a little bit wet; it keeps them comfortable when its time for naps; it keeps them healthy by regulating body temperature effectively; it keeps them safe by preventing overheating or chilling with breathable materials which wick away moisture while keeping your child comfortable at all times.; it helps keep babies happy because breathing easy makes life easier!