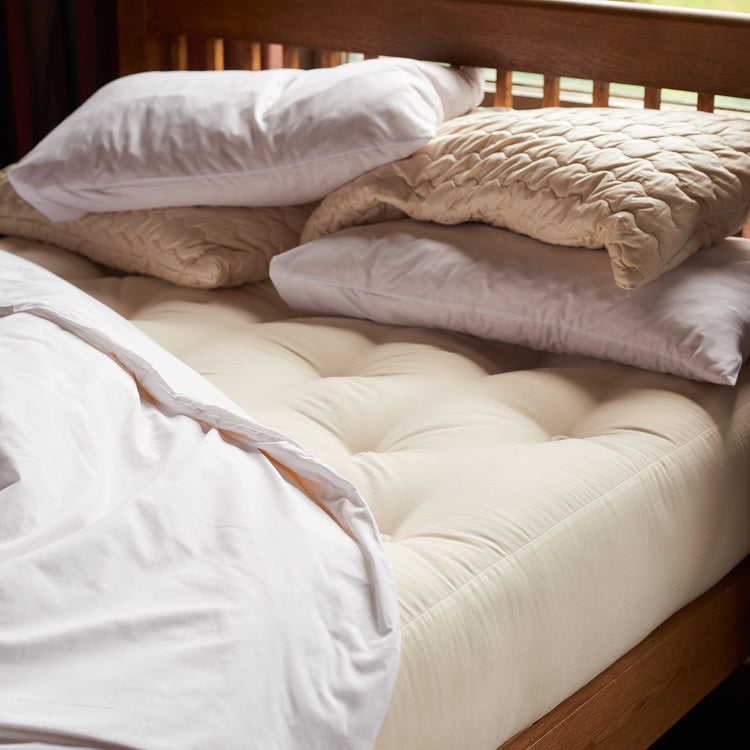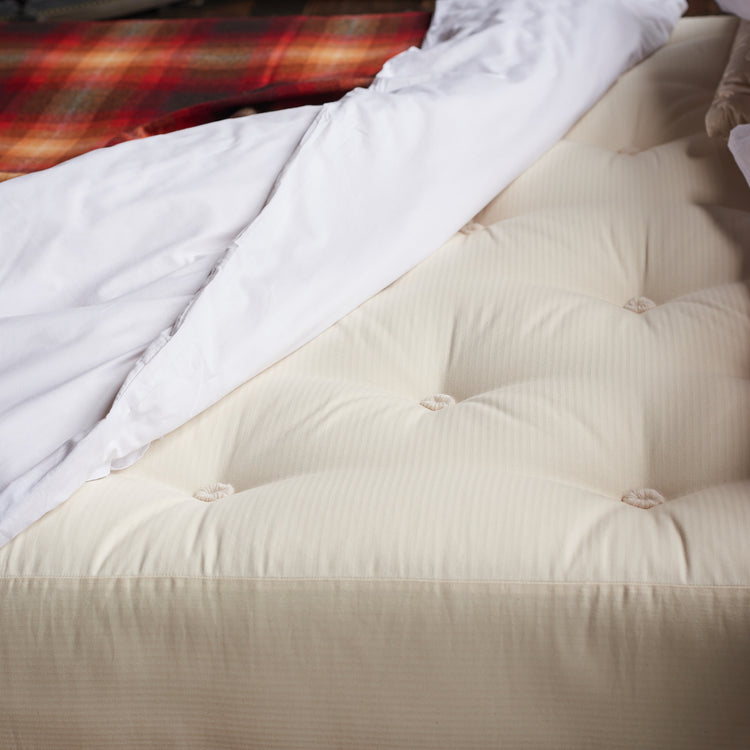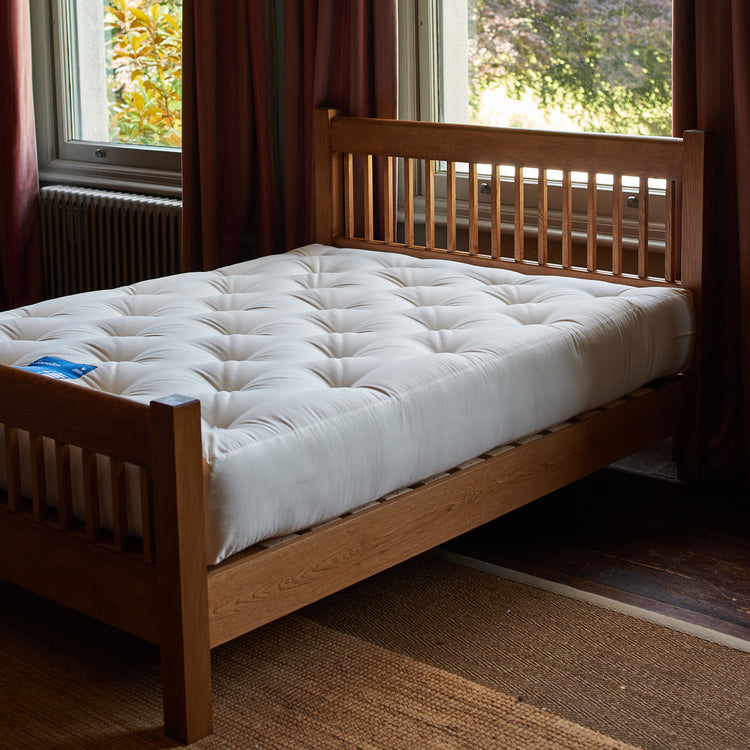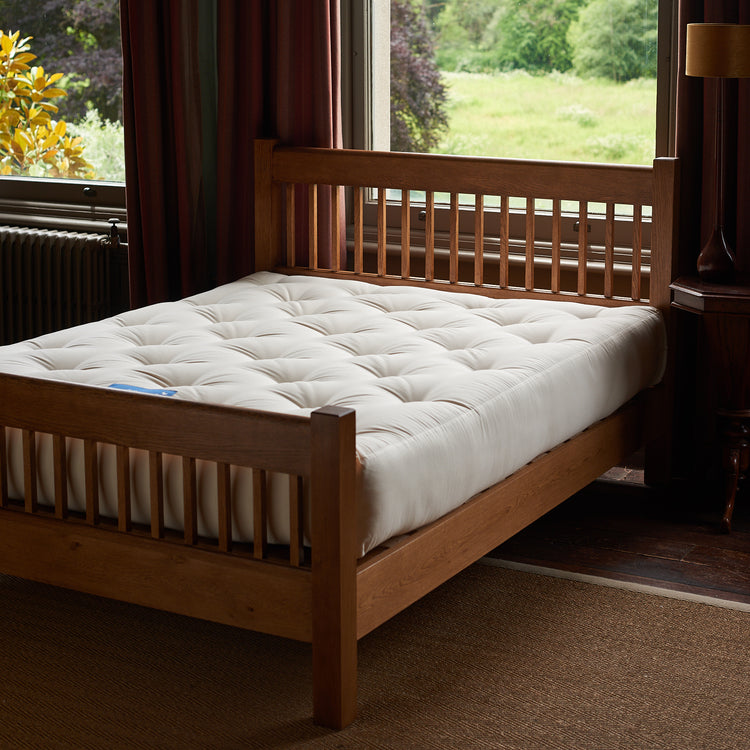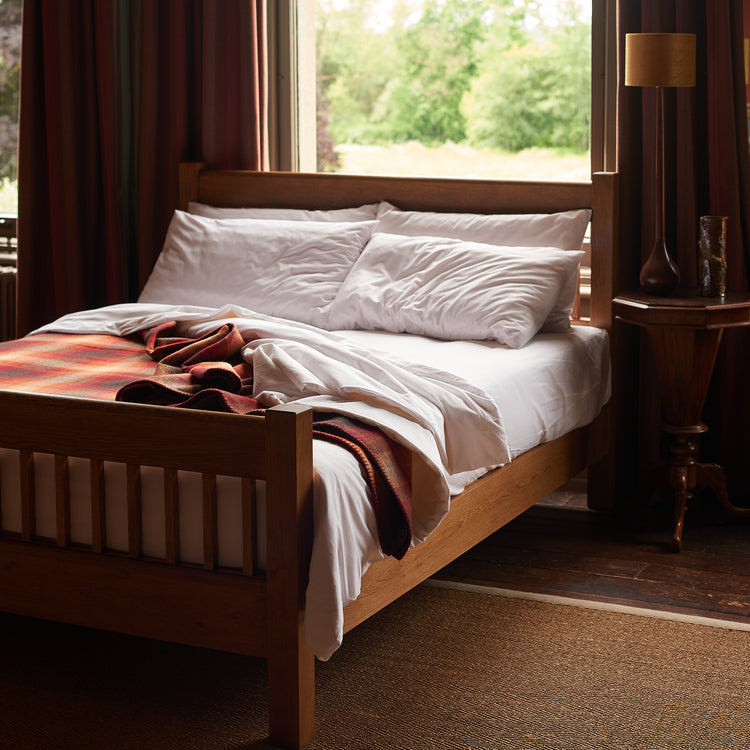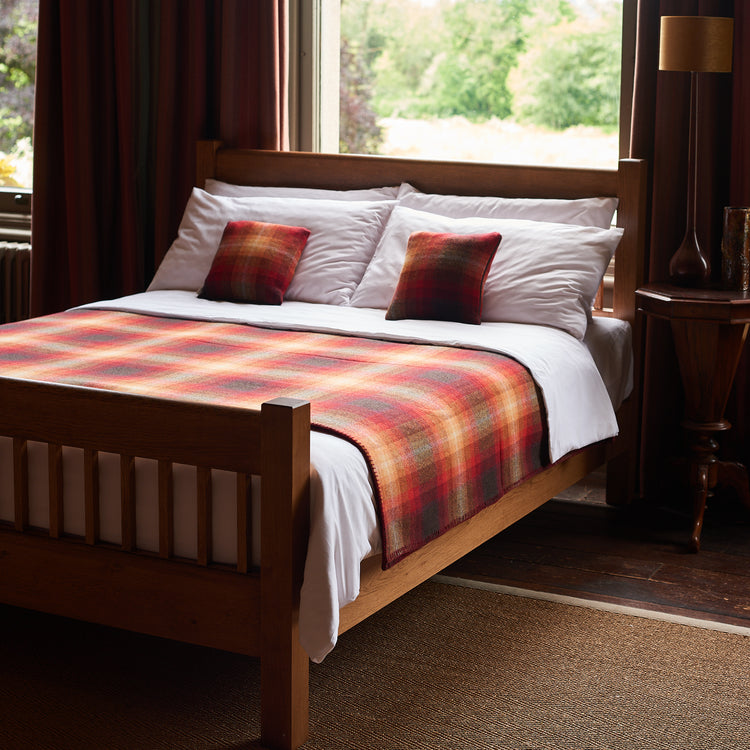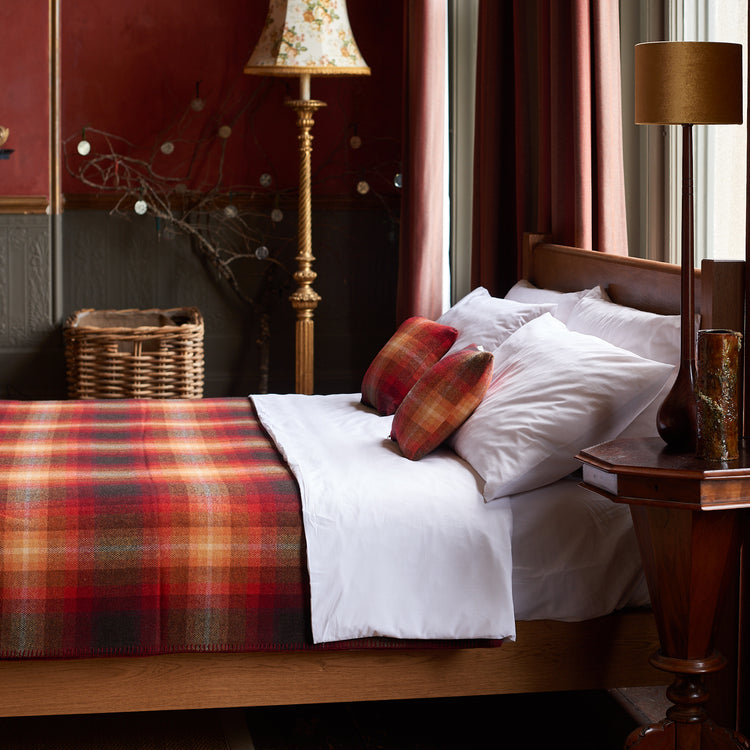 Book a mattress consultation
Description
The Menai: made with layers of wool and an organic cotton cover.
This mattress is the grown-up version of our other wool mattress, The Snowdon. The massive amount of wool that goes into the Menai makes it a firmer and much more substantial mattress. Abaca is one of the biggest users of Welsh organic wool in the UK, and we are really proud that we create wonderful mattresses with a product that is entirely sustainable, biodegradable and fire retardant.
This mattress is perfect for all adults but is especially supportive for those who may be slightly on the heavier side.
ORGANIC & NATURAL
All made with organic materials
HANDMADE IN WALES
Luxuriously handcrafted to last years
PERFECT FOR ALLERGIES
And those who suffer from chemical sensitivity
12 YEAR GUARANTEE
On our Menai mattress, plus free delivery
ORGANIC & NATURAL
All made with organic materials
HANDMADE IN WALES
Luxuriously handcrafted to last years
PERFECT FOR ALLERGIES
And those who suffer from chemical sensitivity
12 YEAR GUARANTEE
On our Menai mattress, plus free delivery
1. Choosing a firmness

The chart below is a guide to which firmness of Menai mattress is likely to suit you best depending on your weight. Please take your age into account as well, the older we are the more likely we are to need a softer mattress. Sleeping positions are completely individual, but latex mattresses are often recommended for side sleepers.

| | | |
| --- | --- | --- |
| Firmness | Sleep position | Weight |
| Soft | Any | Up to 12 stone/76 kilos |
| Medium | Any | Up to 20 stone/130 kilos |
| Firm | Any | Above 20 stone/130 kilos |
2. Mattress size guide

| | | |
| --- | --- | --- |
| Order size | Metric | Imperial |
| Small Single | 76 x 190 Cms | 2'6" x 6'3" |
| UK Single | 90 x 190 Cms | 3' x 6'3" |
| Large Single | 107 x 190 Cms | 3'6" x 6'3" |
| Small Double | 122 x 190 Cms | 4' x 6'3" |
| Standard Double | 137 x 190 Cms | 4'6" x 6'3" |
| UK King | 152 x 198 Cms | 5' x 6'6" |
| Euro King | 160 x 198 Cms | 5'3" x 6'6" |
| Small Super King | 168 x 198 Cms | 5'6" x 6'" |
| Super King | 183 x 198 Cms | 6' x 6'6" |
3. Delivery of your mattress

Delivery to an address on the UK mainland is free of charge except for the post codes below. If you're lucky enough to live in one of these wonderful areas please contact us for a quote. Beds and mattresses are delivered by a two man team to your room of choice, and disposal of packaging is also free of charge

Postcodes where a delivery charge is required


Scottish Highlands: AB, DD, IV, KW, PA, PH 

Scottish Islands: IV40+, KW16+, PA20+, PH41-44, HS, ZE

English Islands: IM (Isle of Man), PO30-40 (Isle of Wight)

Northern Ireland  

We are happy to deliver anywhere in the world, please contact us for a quote. All our deliveries overseas are door to door.

How long will it take before my order is ready?

We only work to order and our usual lead times are 4-6 weeks for a mattress, 6-8 weeks for a bed and mattress.

What happens if I need to return my mattress?

We will do all we can to ensure that the mattress you receive is the one that you'll be most comfortable on. If it turns out that this isn't the case and you need something that is firmer or softer we will exchange, free of charge, if you let us know within the first fourteen days that you have an issue with the mattress.
4. Your mattress guarantee

In line with our green credentials, we make mattresses from sustainable materials. These materials are all organic and natural, and we expect our mattresses to last a long time. Our guarantee covers you against faulty workmanship or materials and we hope that you will look after the mattress by turning it regularly, hoovering it occasionally and stripping the bed every now and again to let the mattress breathe.

No guarantee can cover the way that a mattress is used, so please be careful if you need to move your mattress from one room to another and when you're turning it. A pocket sprung mattress must not be folded or allowed to flop under its own weight. 

The Menai mattress has a 12 year guarantee.

5. Re-cover, re-furbish, re-cycle

Far too many mattresses end up in landfill, approximately 100,000 a week just in the UK! Our mission is to do everything we can to make sure that none of our mattresses have to be thrown away.  So what can we do?

1. We can re-cover. All our mattresses can be re-covered if you had an unfortunate spill on the cover. We can also replace the top layers of wool if necessary.
2. We can re-furbish. Both of our fibre mattresses can be completely re-made. The fibre is re-opened, fresh added if necessary, and the cover replaced.
3. We can re-cycle. When you buy a new Abaca mattress, we take your old Abaca mattress away to be broken down and re-cycled.

All Abaca mattresses are built to last, but there comes a time when even the best mattress struggles to give you the support you need. If you need a new Abaca mattress, we will give you a 10% discount as a loyal customer.

Each of the options above will be individually priced depending on the size of the mattress and where you are in the UK, please contact us for details.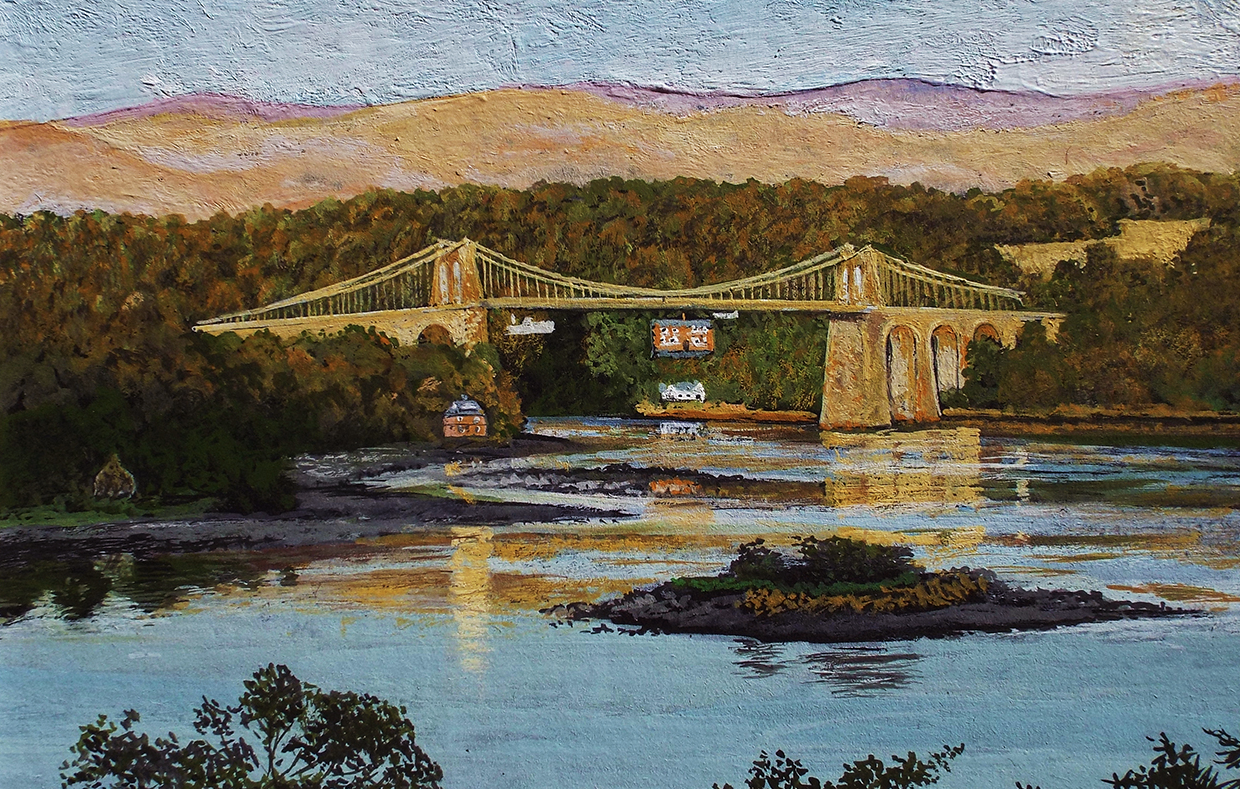 Menai inspiration
Menai. Crossing the Menai bridge from Anglesey to Gwynedd is unforgettable. Snowdonia is spread out before you while the straits below are home to all sorts of wildlife.
Our Menai mattress is as unique as the Menai straits themselves. It's difficult not to be overwhelmed by the combination of sea, islands, mountains, farms and towns that make up that landscape. Some of the three and a half kilos of wool per square metre that we use will have probably come from sheep that graze the fields around the Menai.
Four great reasons to buy organic
Why you should consider going organic when you sleep:
Organic mattresses are chemical free

Conventional mattresses use a wide variety of chemicals during the manufacturing process and adhesives are often used to glue the layers of a mattress together. Not what you want to be sharing a bed with! Organic materials are produced without the use of harmful pesticides, herbicides and insecticides, and all the materials we use in our mattresses are either recyclable or biodegradable.

Organic mattresses are a healthy option

In many cases, allergies and problems with the respiratory tract are aggravated by elements found in conventionally made mattresses, especially memory foam. We are at our most vulnerable in bed and don't spend as long anywhere else from day to day. Investing in a mattress that doesn't introduce any of these foreign elements into our sleeping environment is a healthy option! People who buy an Abaca mattress often call us to say that symptoms like runny noses, sneezing, coughing, and skin irritations are either significantly reduced or eliminated within just a few weeks of sleeping on the mattress.

Organic mattresses help regulate your temperature

Man made materials make for very poor temperature regulation. Memory foam, for example, often becomes very hot at night, whereas  the organic  cotton and wool  in every Abaca mattress wick moisture away from the body and help your body achieve restful sleep.

Organic mattresses are sustainable

As an organic company we are very conscious of our carbon footprint. Every year 7.5 million mattresses go into landfill in the UK alone, so producing mattresses using materials that can be recycled is really important.
Symbols you can trust