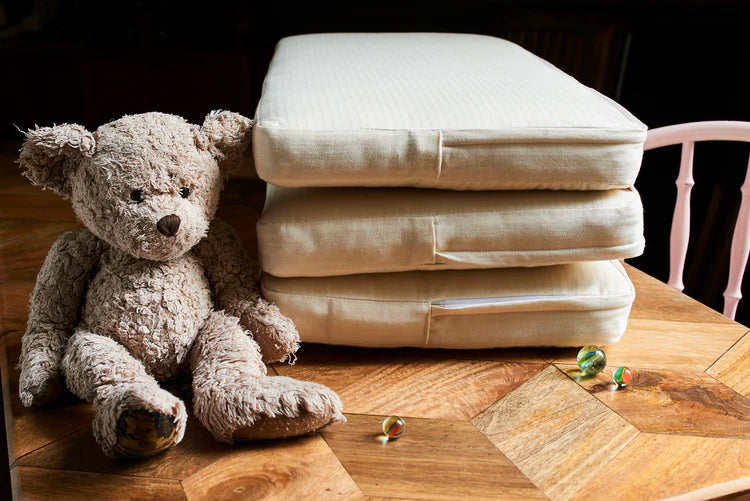 Organic Cot Mattress
Our organic cot mattress is made with wool and cotton to reap the natural benefits of both materials. At the core of this organic cot mattress is Welsh wool for its natural properties and also comfort. Our Organic Cot Mattress is then finished with an organic cotton cover, benefiting from all of the great properties of cotton. See below for more information about our Organic Cot Mattress and the benefits of Wool and Cotton.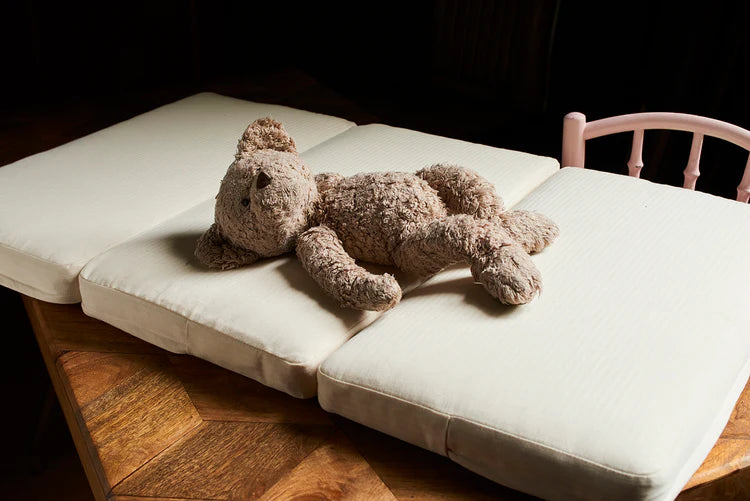 Need help with organic cot mattresses?
We can also handmake organic cot mattresses in any size or shape. Additionally, our organic waterproof protectors can be custom-made to fit. If you would like to speak to someone about mattresses for your baby contact us on 01269 59849. Alternatively, book a consultation date and time and let one of our expert team help you.
Book a consultation
Organic cot mattress reviews
After buying a memory foam mattress and nearly dying from the toxic smell that came off it I started looking into what chemicals are used in mattresses. After all the pollutants my baby is exposed to I had to get her an organic mattress and we love it. Abaca were great, it's so nice being able to talk to them on the phone about what you are buying and they make it to whatever size you need. The mattress protector is great too. Excellent company, I only wish we could get a mattress for our bed too!

Marie H - Cot Mattress

The cot mattress we bought from Abaca has been brilliant, knowing our baby is sleeping on organic materials. From what we can tell (as we can't fit to try) it feels really comfortable, nice and thick and fits our cot perfectly. Thank you!

Rhys B - Cot Mattress

Great quality - our baby is sleeping like a baby!

Rosa K - Cot Mattress

Abaca were able to supply me with a bespoke crib mattress at short notice. Made from a template I posted to them, it arrived within days. It is simply perfect. The quality is outstanding & I love that it is made from natural materials using local wool. Rhiannon was so helpful throughout the entire ordering process & nothing was too much trouble. I cannot recommend Abaca highly enough & have passed their details to friends & family. Thank you so much Rhiannon & your excellent team.

Sharon R - Moses Basket Mattress
Customise an organic cot mattress

At Abaca we can adjust our organic cot mattresses to fit any size cot. If you are looking for a specific size organic cot mattress (due to the cot size you have), then please don't hesitate to contact us.

Why pick an organic cot mattress made from wool?

Our organic cot mattress is ideal for anyone who wants to get a better night's sleep and wake up feeling more rested. The unique properties of wool make it ideal for an organic cot mattress. Wool allows your skin to breathe as you sleep, which helps prevent dryness and itchiness. Wool is also hypoallergenic, which means that it is great for allergy sufferers. The natural hypoallergenic properties of wool mean that it helps reduce dust mites, which are known to aggravate allergies and potentially trigger asthma.

Organic cot mattress made with cotton

Our organic cotton mattress is hypoallergenic, comfortable, and low maintenance. Cotton is a natural fibre that has been popular for a long time. Cotton is soft and breathable, which helps you sleep better at night by keeping you cool while you sleep. Cotton is also non-irritating so it can be worn next to the skin without causing allergies or discomfort. Unlike other materials, cotton doesn't have dyes or chemicals added during the production process.

Organic cot mattress handmade in the UK

We make organic cot mattresses in the United Kingdom, and we pride ourselves on the fact that they are made sustainably. Our company has been in business for twenty years, so we have a wealth of knowledge about all of our products and if you ask us a question about one of them, we can recommend a solution tailored specifically to your needs.
Have a query about our Organic Cot Mattresses?
No matter how small your query is please don't hesitate to contact us using the form below. At Abaca, we are more than happy to answer any questions about our Organic Cot Mattresses or any other product on our website.
Organic Cot Mattresses Contact Form
Organic Cot Mattress FAQs
What are the advantages of buying an Organic Cot Mattress?

Organic cot mattresses contain no harmful chemicals, such as flame retardants or pesticides. Instead, they are made with natural ingredients like cotton and wool that can be enjoyed by your baby.
What do I need to consider when looking for mattresses?

Materials used in the manufacturing process of a mattress can sometimes be harmful. Be sure to research the chemicals used, and try to avoid those that are known respiratory irritants or carcinogens. Flame retardant chemicals can also be dangerous if they're present in your baby's mattress. These chemicals have been linked to developmental and neurological problems, so it's important to avoid them as much as possible.
If we are looking for an organic cot mattress in an usual size can you help?

We can customise and tailor our organic cot mattresses to meet different requirements.